Using Google Analytics to understand the impact of social media on SEO
See on Scoop.it – Noam Design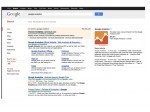 This guest post from James Gurd discusses why social media is an important part of SEO and how Google Analytics Social reports can help.
Simon Dadia's insight:
I have seen very similar results as well. The amount of sharing on Googlel plus is on par with FB for certain topics but Google is still to young to have taken control of all social circles.
It makes sense if you have a strong social following of real people talking about you and sahring your content, it's clear to see how this is an accurate graph to go by whether or not this is worthy content to be shown on the first pages of google.
See on www.smartinsights.com